Electrical engineers helped invent the computer, satellite communications, cellular phones, microchips and solar panels. They are in high demand globally. At the University of Nebraska–Lincoln, you will receive a well-rounded education that prepares you for a career in utilities, communication and computing, government, education or consulting. You can focus on such fields as aerospace, bioengineering, computers, renewable energy and power, telecommunications and transportation.
College

Hours Required

124 credit hours
The Nebraska Difference
18:1
Student-to-Faculty Ratio
Kiewit Hall
$115 million student-centric engineering hub
Be a Complete Engineer®
Unleash your potential and cultivate core competencies
Innovate. Excel. Engineer.
80% of students receive a job offer before graduation.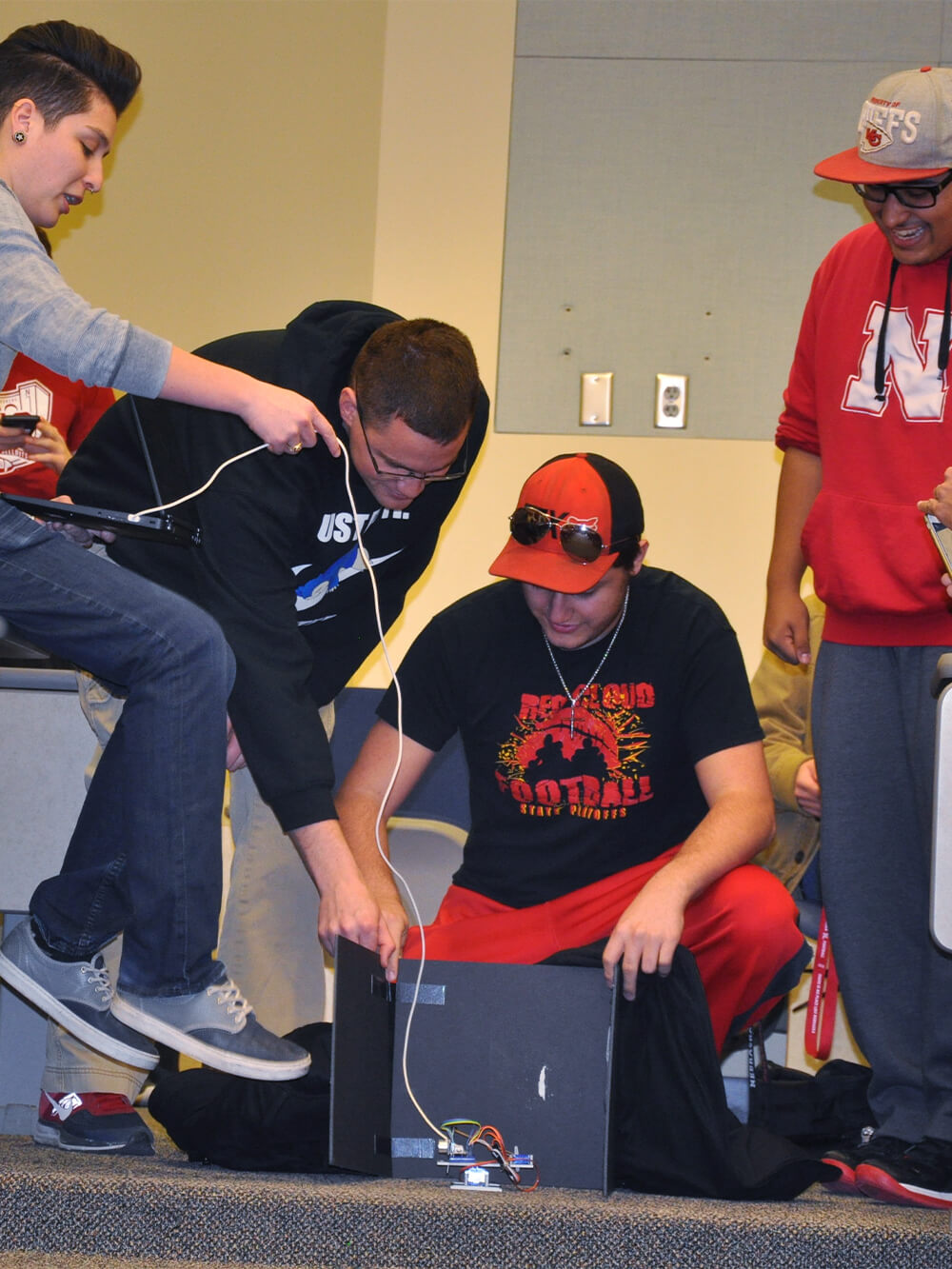 Program Features
Flexible Curriculum With Diverse Specializations  
The electrical engineering program offers a comprehensive curriculum that covers a wide range of topics. You can choose technical electives from advanced courses within electrical engineering or other engineering majors. This allows you to tailor your education to align with your interests and career goals, fostering a deeper understanding of specialized areas within the field. 
Opportunities for Research and Hands-On Experience 
With 40+ faculty members involved in various research areas, the department offers extensive research facilities. Students are encouraged to participate in research activities to gain valuable hands-on experience and contribute to cutting-edge advancements in the field.  
Comprehensive Curriculum in Lincoln and Omaha
The electrical engineering major is available in Lincoln and Omaha. You may complete degree requirements on either campus, with nearly identical curriculum. This enables you to utilize resources and opportunities from both locations and easily transfer without academic disruptions.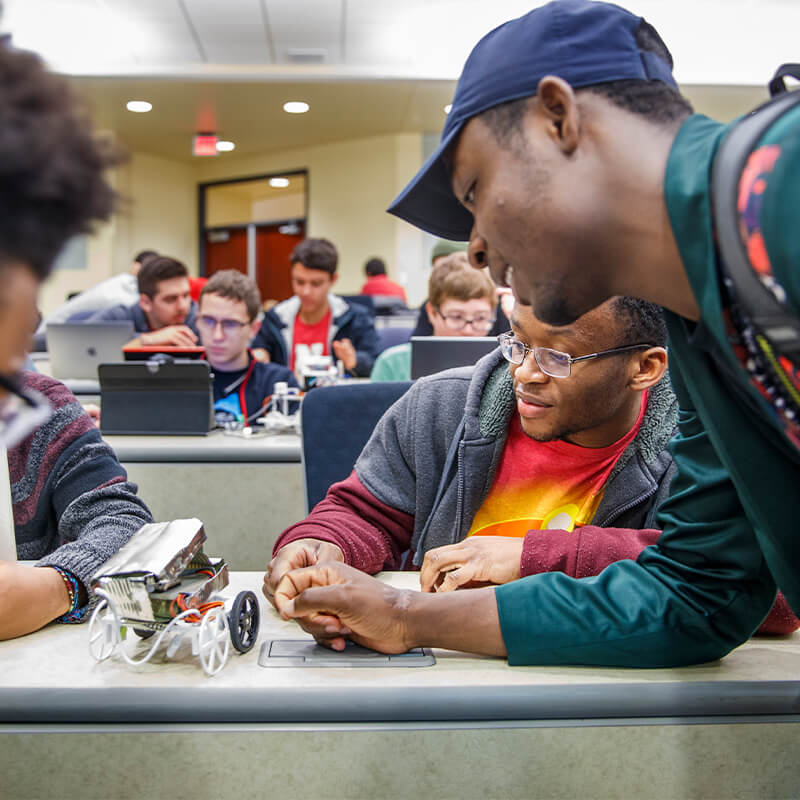 Notable Courses
Electronics & Circuits I (ECEN 215)

Electrical engineering circuit theory, including Kirchhoff's laws, circuit analysis theorems, DC resistive circuits, transient RLC circuits, sinusoidal steady-state circuits and modern computer-based methods.
Introduction to Embedded Systems (ECEN 220)

Embedded microprocessor systems. Hardware and software concepts, interfacing with components, circuit design, driver development in assembly or C languages and hands-on hardware construction.
Electromagnetic Field Theory (ECEN 306)

Complex vectors, Maxwell's equations, uniform plane waves, wave reflection, transmission at interfaces, waveguides, resonators, transmission line principles, and antennas, encompassing various topics in wave phenomena.
Digital Logic Design (ECEN 370)

Combinational and sequential logic circuits. Utilize MSI chips, programmable logic devices (PAL, ROM, PLA), CAD tools, LSI and PLD components for hardware design.
Data and Telecommunications Transceivers (ECEN 362)

Explore the fundamentals of communication systems, covering topics like signal distortions, impedance matching, high frequency measurement, amplifier design, PLLs, data synchronization, multiplexing, and antenna arrays.
Power Systems Analysis (ECEN 406)

Comprehensive study of electrical power systems, including symmetrical components, fault calculations, power system stability, generator modeling, voltage control systems, high voltage DC transmission and protection.
Huskers Do Big Things
Internships
Electrical engineering intern, Burns and McDonnell, Kansas City, Missouri
Software design engineer intern, LI-COR Biosciences, Lincoln, Nebraska
Electrical project engineer intern, Nebraska Public Power District, Lincoln, Nebraska
NASA summer intern, NASA, Johnson Space Center, Houston, Texas
Electronics modules engineer, Textron Aviation - Wichita, Kansas
Research & development intern, J.A. Woollam Company, Lincoln, Nebraska
Careers
Protection and controls engineer, Lincoln Electric System, Lincoln, Nebraska
System engineer, NASA Marshall Space Flight Center, Huntsville, Alabama
Avionics engineer, Textron Aviation, Wichita, Kansas
Instrumentation engineer, ExxonMobil, Beaumont, Texas
Embedded systems engineer, Lockheed Martin, Denver, Colorado
Orbital vehicle program manager, United States Air Force, White Sands, New Mexico
Graduate Schools
Ph.D. Electrical Engineering, Stanford University
Master's in Robotics Engineering, Northwestern
Master's in Electrical Engineering, Rice University
Ph.D., Biomedical Engineering, University of Nebraska-Lincoln
Ph.D., Electrical Engineering Systems, University of Michigan
Ph.D., Computer Science, University of Colorado
Outside the Classroom
At Nebraska, you'll have many opportunities to discover your academic community and stretch your strengths.
Collaborate with industry professionals and your peers by joining professional and student organizations such as IEEE (the largest professional organization in the world), Engineers Without Borders or Robotics.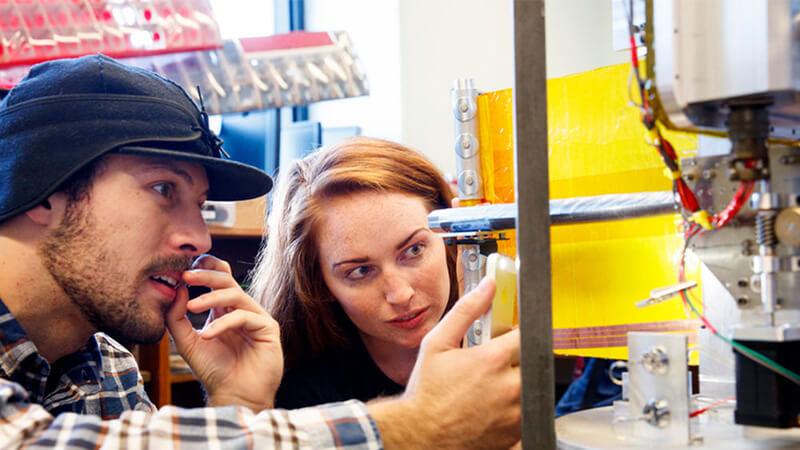 Pursue research projects available to undergraduate students that offer funding and valuable opportunities to discover what drives you in your academic area.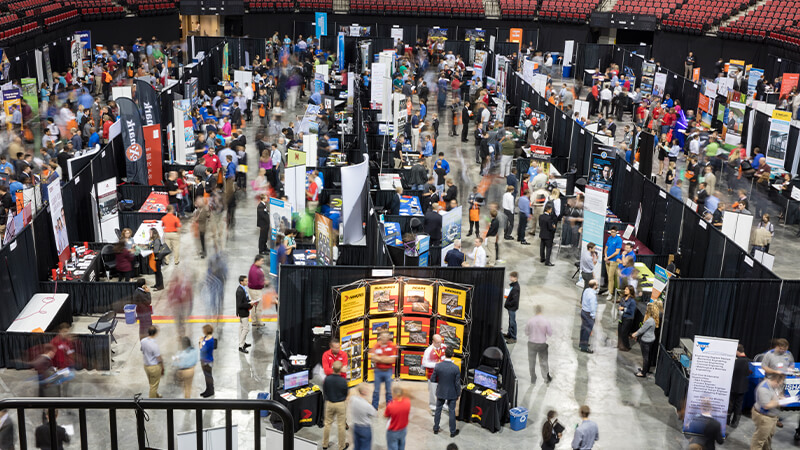 Make Valuable Career Connections
Connect with companies and organizations for paid internships and jobs, such as via 1-to-1 counseling and career fairs through career services professionals within the colleges and the university.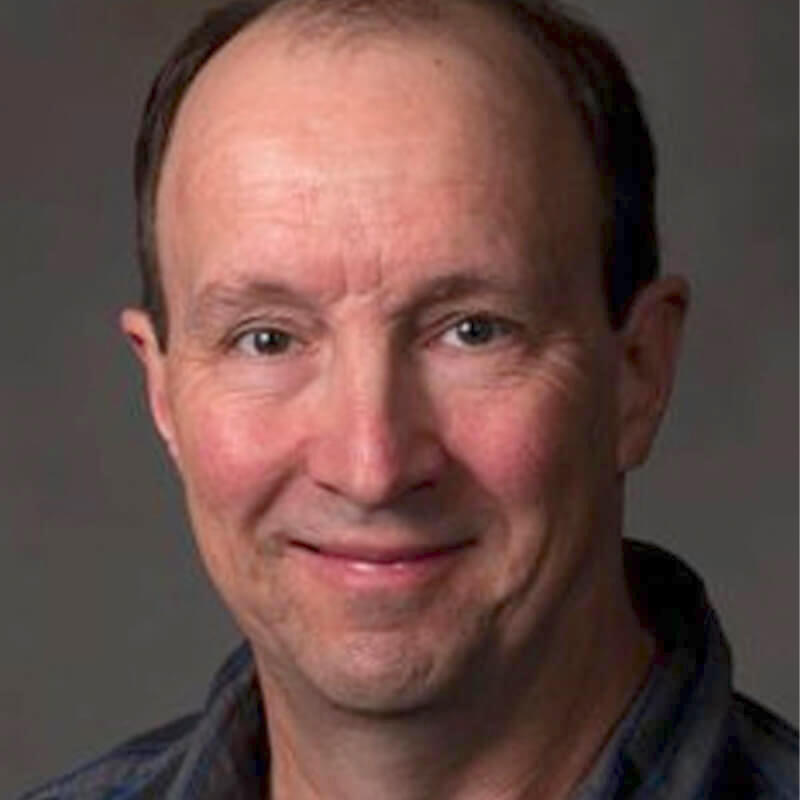 Featured Faculty
Mark Bauer, Professor of Practice
Dr. Bauer's approach to teaching is what he calls "directed chaos, but in a good way." He emphasizes teamwork, ingenuity and collaboration, and has been known to teach electrical engineering concepts via team competitions. In his own research, he has been included as a National Strategic Research Institute Fellow, working with other Nebraskan researchers on national security missions.
Academics & Experiential Learning
Tackle big challenges in your classes and work with faculty on research dedicated to solving global problems and saving lives.
Engineering is a global profession. Increase your knowledge and marketability by participating in a study abroad opportunity.
Career Preparedness
You'll gain career-level experiences right from the start of your academic adventure to prepare to enter the career or graduate school of your choice.
Participate in paid internships for valuable on-the-job experiences and to develop lifelong career contacts.
Community
With more than 50 clubs and organizations in the College of Engineering, you'll connect with other students and faculty through fun and hands-on experiences.
Participate in local hardware and software engineering competitions through the Robotics organization.
Have Questions?
We're Here to Help
If you have questions about the Electrical Engineering major or navigating the application process, contact us.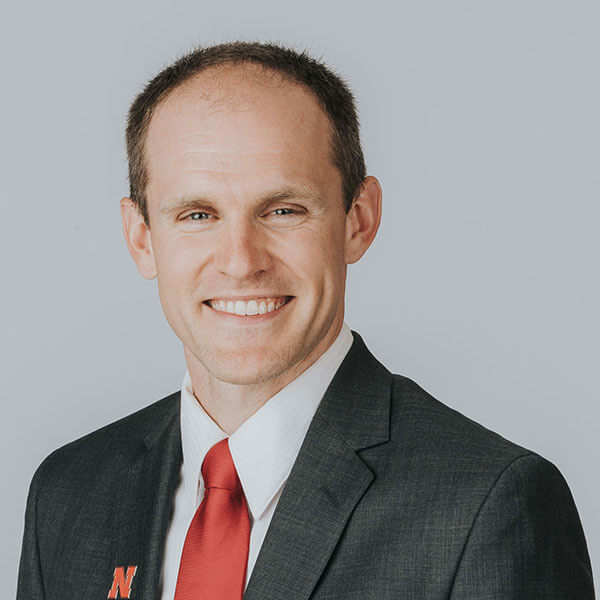 Contact Name

Jeff Beavers

Contact Title

Director of Recruitment

Phone

Email